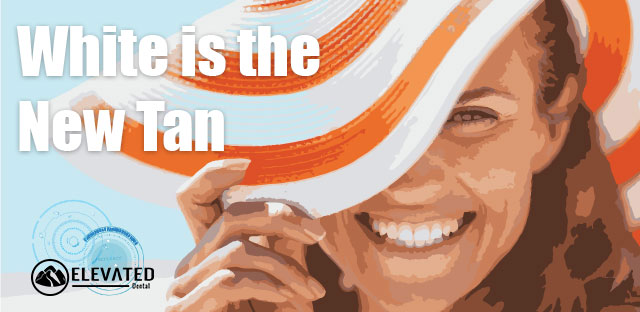 The bikinis are on the store racks, tanning lotion is on sale, and the summer obsession begins! Everyone tries to get that bronze burn that seems to be the consistent fad. Well, we are here to tell you about a different craze. There is just one unique thing about this trend…
This style has been "in" for decades and will never get old. What is it? If you haven't guessed yet, it's a brilliant white smile! White is the new tan. Beauty doesn't require hours out in the sun, peeling skin, and an increase in your chance of getting skin cancer. If you want to be more attractive this summer, we've got a better solution.
In 60-90 minutes we can give you a whiter smile. Come in for a regular cleaning appointment and let us know that you want a whitening treatment. We will add a whitening agent to your teeth during your stay. By the time you head home, you will be able to see results. That is a guarantee you won't find in at-home treatments. There is more good news!
If you have experienced sensitivity issues in your past efforts for a whiter smile, you have found your perfect fit! Dr. Holmberg was one of the first in the area to use whitening products that reduce sensitivity, not increase it.
Are you ready to feel more amazing this summer? Put away the tanning lotion and give us a call today.
Keep reading our blogs to learn more about whitening treatments and ways to keep your teeth bright and white!
#whiteisthenewtan